Land Offer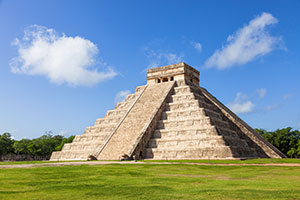 Chichen Itza + Cenote Hubiku with Lunch - Day Tour
Chichen Itza
Bedsonline
Vacation Offer ID 1474798
Reference this number when contacting our travel specialist.
Bedsonline
Seize this fantastic opportunity to visit one of the Seven Wonders of the World, the Chichen Itza, in its full glory. The name means "At the mouth of the well of the Itza" and is Mexico's most visited archaeological site, a magnificent display of Mayan culture. The highlight of the site is the Kukulkan Pyramid, known as El Castillo. On this tour you will be able to walk around the pyramid, seeing it from every angle and admiring the work that went into constructing this magnificent pyramid.
The building has remained in place since the time of the Mayans and is a fascinating example of Mayan culture. Mesoamerican cultures occasionally built larger pyramids on top of smaller ones and this is the case for El Castillo, where an excavation discovered a temple with an elaborate jaguar throne.
Of course there are natural beauties to see at Chichen Itza, such as the Cenote Sagrado, an impressive sinkhole gateway into an underground body of water which is 60 metres in diameter. The Chichen Itza is one of Mexico's most impressive sites and, as one of the Seven Wonders of the World, it's an experience which is sure to not be forgotten.
Vacation Inclusions
Chichen Itza and Cenote Hubiku with lunch
Children: $26
Featured Destinations
Valid Date Ranges
Valid for select dates now through 3/31/23. Note: This is a DAY TOUR with no hotel accommodations included. Price is subject to change based on travel date chosen at the time of booking. 25% savings already reflected in price. Price is not reflective of trade fairs, holidays and blackout dates. Full terms and conditions apply. Inquire for full details at the time of booking.
All fares are quoted in US Dollars.