Land Offer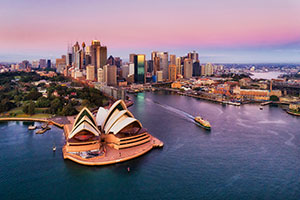 5-Nights Sydney, Four Seasons Hotel Sydney
Sydney
Journese
Vacation Offer ID 1489553
Reference this number when contacting our travel specialist.
Journese
Welcome to Four Seasons Hotel Sydney. Stunningly situated overlooking Sydney Harbour in the historic Rocks district, a short walk from the city's shopping and business centres, Four Seasons is vibrant and elegant, with dramatic harbourfront views and a luxurious new spa featuring Australian herbal therapies.
The Hotel offers 531 rooms and suites, elegantly decorated in a luxurious contemporary style. Views from the guest rooms include Sydney's most famous icons: the sunrise over the Royal Botanic Gardens and the Sydney Opera House, the harbour, the Sydney Harbour Bridge, Darling Harbour and beyond. Half of the rooms enjoy full or partial harbour views. All rooms include features to accommodate the business traveller: two-line telephones, data port/modem hook-up and a safe large enough for a laptop computer.
Kable's, the Hotel's premier restaurant, offers a relaxed yet vibrant atmosphere and enjoys a substantial reputation in a city known for its exciting dining.
Kable's is located on the second floor of the Hotel, reached by a sweeping grand staircase from the lobby. The décor is intimate, with rich carpeting and floors of dark stained parquet. Kable's offers a wide range of cosmopolitan Australian menu choices. An intimate wine bar at the entrance is the place to sample an unrivalled range of Australia's best boutique wines. The Kable's cellar is on view, and guests may also dine there. Seats 120, with private dining rooms available for 10 to 50 guests and a Chef's Table in the kitchen seats up to 16 guests.
Total wellness, inspired in the city's most pampering spa. Following a healthful, holistic approach, The Spa tempts with a menu of treatments conceived to create a serene yet rejuvenating experience. Expert spa therapists restore well-being with customised combinations of deep tissue, acupressure, Swedish and reflexology techniques. Skilled aestheticians offer services to polish and groom. Cleansing treatments for the face and body. Wraps to tighten and tone. All in an atmosphere of comfort and discretion.
Vacation Inclusions
Deluxe Harbor View Guestroom accommodations
Special rate
Sydney Opera House & Dine Experience
Gold Penfolds Dinner Cruise
Private Transfers
Featured Destinations
Valid Date Ranges
Offer valid for booking and select travel now through 12/15/2023. Special rate already included in advertised rate. Land price is per person, based on double occupancy. Rates are for check-in on 10/15/2023; prices for other dates may vary. Rates quoted are accurate as of 1/24/2022; at the time you purchase your vacation, rates may be higher. Unless otherwise indicated: rates quoted are accurate at time of publication. Airfare, taxes, surcharges, gratuities, transfers and excursions are additional. Advertised rates do not include any applicable daily resort or facility fees payable directly to the hotel at check-out; such fee amounts will be advised at the time of booking. Rates, terms, conditions, availability, itinerary, government taxes, surcharges, deposit, payment, cancellation terms/ conditions and policies subject to change without notice at any time. Cruise rates capacity controlled. Other restrictions may apply, including, but not limited to baggage limitations and fees, standby policies and fees, non-refundable tickets and change fees with pre-flight notification deadlines, and blackout dates. Fees and policies vary among airlines. Contact your travel advisor directly for any details or questions. Not responsible for errors or omissions. Journese acts only as an agent for the tour providers listed. CST# 1007939-10. Florida ST# 37983. Copyright©2022 Hawaii World, LLC. (dba Journese®). All Rights Reserved.
All fares are quoted in US Dollars.
Four Seasons Hotel Sydney
<p>Welcome to Four Seasons Hotel Sydney. Stunningly situated overlooking Sydney Harbour in the historic Rocks district, a short walk from the city's shopping and business centres, Four Seasons is vibrant and elegant, with dramatic harbourfront views and a luxurious new spa featuring Australian herbal therapies.</p> <p>The Hotel offers 531 rooms and suites, elegantly decorated in a luxurious contemporary style. Views from the guest rooms include Sydney's most famous icons: the sunrise over the Royal Botanic Gardens and the Sydney Opera House, the harbour, the Sydney Harbour Bridge, Darling Harbour and beyond. Half of the rooms enjoy full or partial harbour views. All rooms include features to accommodate the business traveller: two-line telephones, data port/modem hook-up and a safe large enough for a laptop computer. </p> <p>Kable's, the Hotel's premier restaurant, offers a relaxed yet vibrant atmosphere and enjoys a substantial reputation in a city known for its exciting dining. </p> <p>Kable's is located on the second floor of the Hotel, reached by a sweeping grand staircase from the lobby. The décor is intimate, with rich carpeting and floors of dark stained parquet. Kable's offers a wide range of cosmopolitan Australian menu choices. An intimate wine bar at the entrance is the place to sample an unrivalled range of Australia's best boutique wines. The Kable's cellar is on view, and guests may also dine there. Seats 120, with private dining rooms available for 10 to 50 guests and a Chef's Table in the kitchen seats up to 16 guests. </p> <p>Total wellness, inspired in the city's most pampering spa. Following a healthful, holistic approach, The Spa tempts with a menu of treatments conceived to create a serene yet rejuvenating experience. Expert spa therapists restore well-being with customised combinations of deep tissue, acupressure, Swedish and reflexology techniques. Skilled aestheticians offer services to polish and groom. Cleansing treatments for the face and body. Wraps to tighten and tone. All in an atmosphere of comfort and discretion. </p>