Destination Spotlight | FROSCH Journeys South Pacific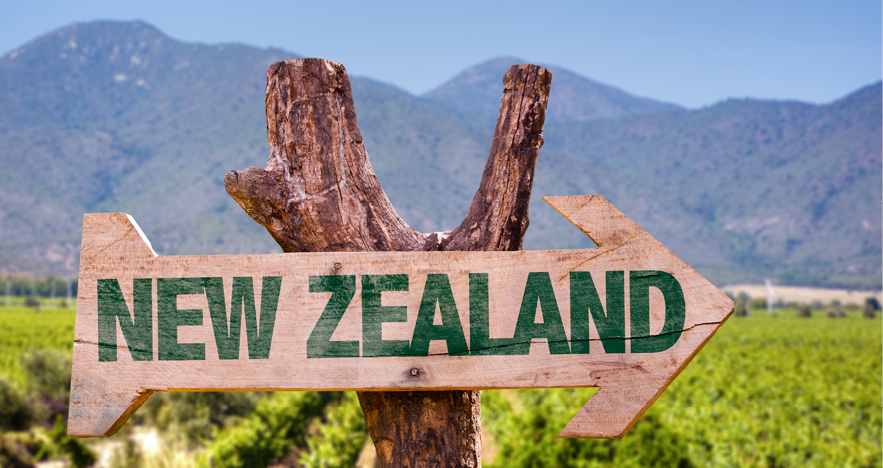 New Zealand as a country produces a wide range of wines and boutique beers from five prominent locations:
Marlborough
Hawke's Bay
Central Otago
Canterbury
Waiheke Island
The main production varietals produced are Sauvignon Blanc, Pinot Noir, and Chardonnay.
Offering completely opposite seasons to the United States, New Zealand's harvest is one of the most crucial steps in the process of winemaking. The time of the harvest is determined primarily by the ripeness of the grape as measured by sugar, acid, and tannin levels.
The winemaker bases their decision to pick depending on the style of wine they wish to produce and, of course, the weather. This tends to occur between March and April, with the best months to explore the vineyards being October through February.
Let's look at the location and time of year to visit and explore each of these areas behind the scenes to gain a greater understanding of viticulture and winemaking in New Zealand.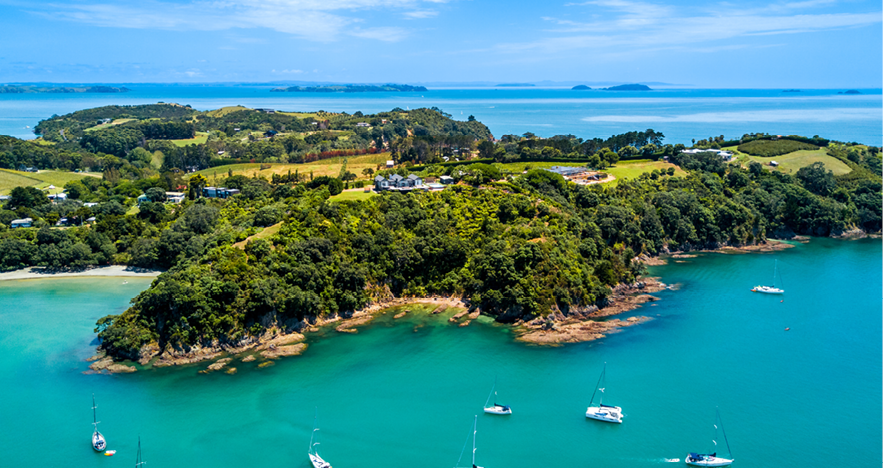 WAIHEKE ISLAND
Waiheke Island is a bedroom community of Auckland, New Zealand's most cosmopolitan city, with a reputation for great food, boutique vineyards, artists, potters, painters, and sculpture parks.
Local, fresh produce and relaxed attitudes provide for plated wonders without pretension.
A 35-minute fast ferry ride has you on Waiheke, being met by a knowledgeable, local FROSCH Journeys South Pacific driver-guide.
Waiheke produces some of the best olive oil in the world, rated by Flos Olei at 96/100, and has a great selection of small boutique vineyards and cellar doors.
There are a number of fabulous restaurants, including Tantalus Estate, offering its own brewery and incredible setting amongst the vines; Casita Miro, a 20-year-old vineyard with Spanish style architecture in a glasshouse-style building, offering delicious tapas to complement its wines; and Te Motu, where the shed has been converted into a restaurant that provides amazing wine, service, and a kitchen that never disappoints.
Where to Stay: Because Waiheke Island is only 35 minutes from Auckland, a lot of guests opt to stay in Auckland at the Sofitel Auckland Viaduct Harbour. The Park Hyatt is about to open in Auckland's Viaduct Harbour as well; however, to explore Waiheke in-depth, The Boatshed is the place to be. This relaxed, hip small luxury hotel offers beautiful suites, a new owner's cottage, views over the sea and white sandy beaches, and an elegant atmosphere with a veggie garden we all dream of!
HAWKE'S BAY: NAPIER
Napier is located in the Hawke's Bay region on the east coast of New Zealand's North Island and is the oldest and second-largest wine-growing region in the country. High sunshine hours and a variety of soil types make the region ideally suited for the growing of fruit and wine.
Known as "The Art Deco Capital of the World," Napier was rebuilt after a significant earthquake in 1931. The region is now home to some amazing Art Deco architecture, which can be viewed and explored before venturing into the vineyards in the surrounding area.
Hawke's Bay produces some of New Zealand's best Chardonnay, while the extended ripening season results in magnificent Cabernet Sauvignon, Merlot, Syrah, and Cabernet Franc. Hawkes Bay is also home to a number of boutique farmers' markets and restaurants that offer local wine pairings and long lunches!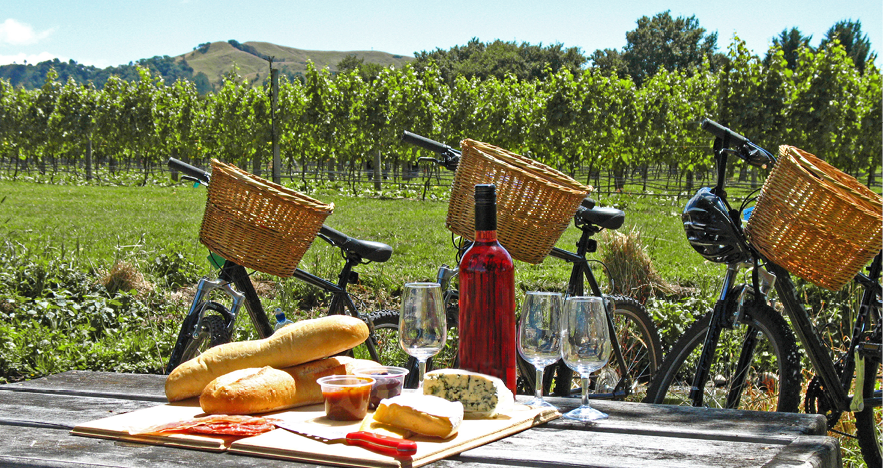 Favorite vineyards to visit are: Te Mata Estate, established in 1896 on the slopes of Te Mata peak, with elegant wine varieties including their Elston Chardonnay and Bullnose Syrah; and Clearview, situated on the coastline looking out to the Pacific Ocean, with superb wines and an incredible vineyard. Clearview's Endeavour Chardonnay is absolutely sublime, and they have a wonderful restaurant offering local produce.
Where to Stay: The Farm at Cape Kidnappers is a destination in itself. A Relais & Chateaux property, the lodge is situated on the cliff tops of Cape Kidnappers and surrounded by 6,000 acres of beautiful farmland with unobstructed views over the Pacific Ocean.
The Farm at Cape Kidnappers is part of the prestigious Robertson Lodges of New Zealand and includes Tom Doak, a par 71 golf course rated tenth in the world outside of the US.
Home to New Zealand's largest Gannet colony, the lodge also offers a variety of on-property activities including farm tours, horse riding, and a unique Kiwi discovery walk.
The lodgings are above and beyond one's expectations, and once you're on the property, you won't want to leave!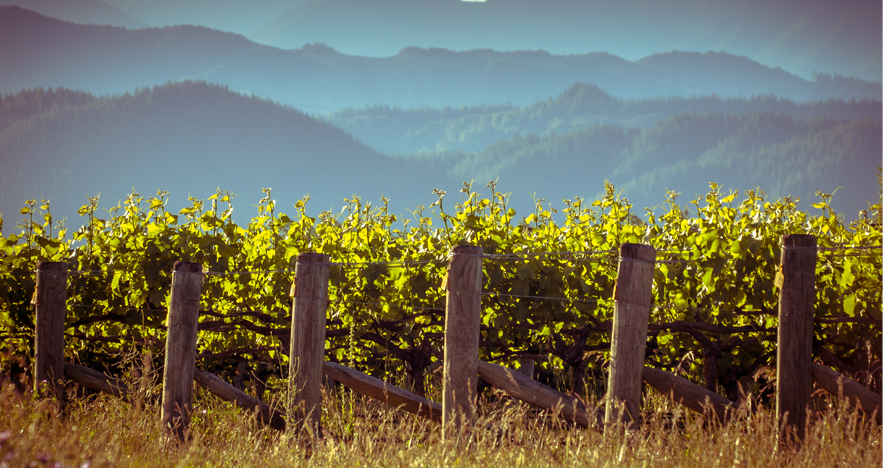 MARLBOROUGH
Situated at the top of the South Island, Marlborough is New Zealand's largest wine district in terms of production and area under vines, with 75% of New Zealand's wine-making taking place here. The region is a wine and foodie paradise, a true gourmet extravaganza.
The Sauvignon Blanc from Marlborough is unique due to the hot sunny days and cool nights in the region. The vines are planted on stony gravel extending the ripening period and offering unique aromas and fresh flavors, which has earned the Marlborough Sauvignon Blanc its worldwide recognition.
As well as hosting the largest number of cellar doors from world-famous labels such as Cloudy Bay, Kim Crawford, Brancott Estate, Grove Mill and Oyster Bay, there is a fabulous collection of boutique vineyards and cellar doors, including Te Whare Ra and Misty Cove, who both produce magnificent wines.
In addition to wine, the picturesque Marlborough Sound is also home to the native green shell mussel. Grown in the waterways, pair these fresh green shell mussels with a local Sauvignon Blanc, and you will absolutely understand why seafood and Sauvignon are a perfect match!
Where to Stay:Two years ago, The Marlborough Lodge opened its doors. Built in 1901, the lodge offers a relaxed yet elegant setting and provides history with the feeling of grandeur.
Set on 16 acres of park-like grounds in the heart of the most sort after wine-growing land called "the golden mile of vine," the lodge has 10 suites, a restaurant, a newly opened Chapel bar, and a Wellness Spa.  Absolutely the number one place to stay and explore in Marlborough!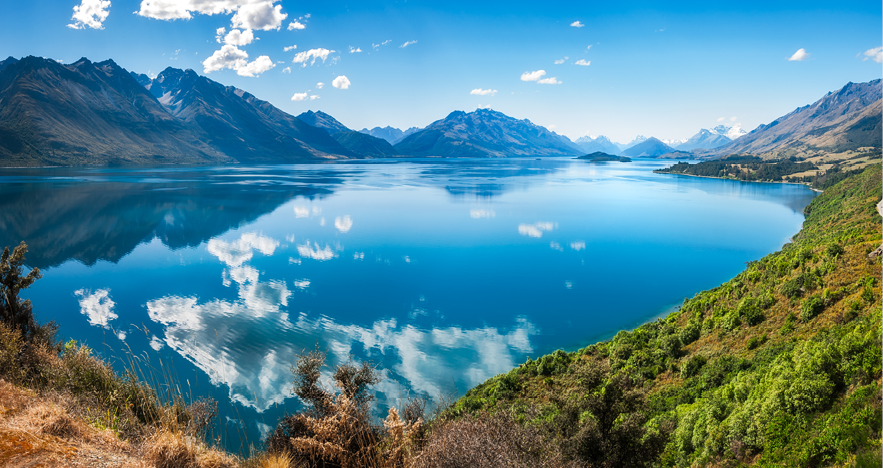 OTAGO
Known as "the Adventure Capital of New Zealand," Queenstown is situated on the edge of Lake Wakatipu in the southwest corner of the Otago region.
An utterly picturesque township, Queenstown is nestled amongst snow-capped mountains with glistening rivers flowing deep within ravines. Traditionally, this area was known for its stone fruit, until the 1980's when the planting of vines began.
The area has cold "snow" winters from June through August and warm, dry summer days. Low rainfall, free-draining soil, and a greyscale base is a combination that has established the perfect conditions to produce some of New Zealand's best Pinot Noir, Pinot Gris, Chardonnay, and Riesling.
A few of the great vineyards near Queenstown include Chard Farm, Gibbston Valley, Felton Road, Wooing Tree, and Carrick. There are also a number of beautiful small vineyard restaurants that offer a more local experience.
Where to Stay: If you like the in-town vibe, Eichardt's Private Hotel, on its prime lakefront site overlooking Lake Wakatipu, is the place to be.
If you're looking for a famous New Zealand Luxury Lodge experience, Matakauri Lodge, Mahu Whenua, and Blanket Bay are all remarkable properties, each with their own unique features.
With so much to discover in this region, including the spectacular Milford Sound, we highly recommend a minimum of 4 nights in Queenstown.
FROSCH Journeys South Pacific's team of Destination Specialists regularly travel to these locations and have a solid focus on luxury custom travel experiences to help you tailor a wine region visit to your personal tastes and interests!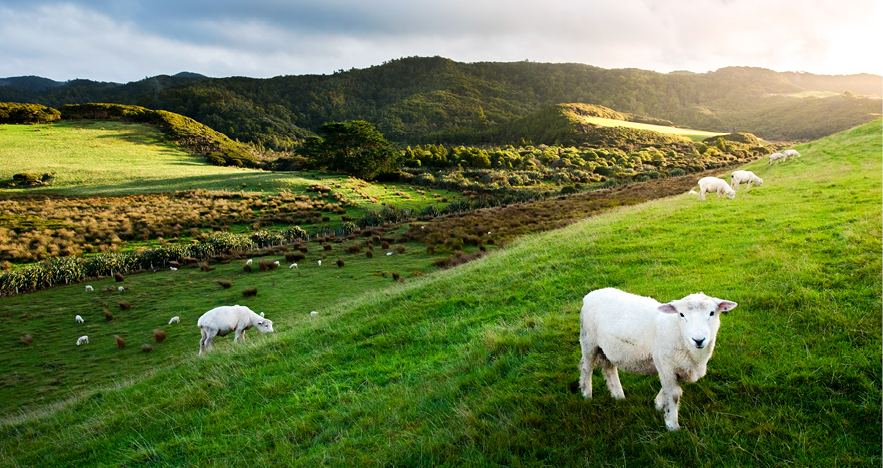 Reach Out to your FROSCH Travel Advisor for an amazing trip to New Zealand!