American Queen Steamboat Company
Save up to $1,200 per Stateroom!
Step aboard a paddle wheeler to embrace authentic Americana! As Mark Twain masterfully penned, "Broad, wholesome, charitable views of men and things cannot be acquired by vegetating in one little corner of the earth all one's lifetime." Get ready for enrichment in your perspective and save up to $1,200 per stateroom!
Embark on an uniquely American journey through the nation's heartland.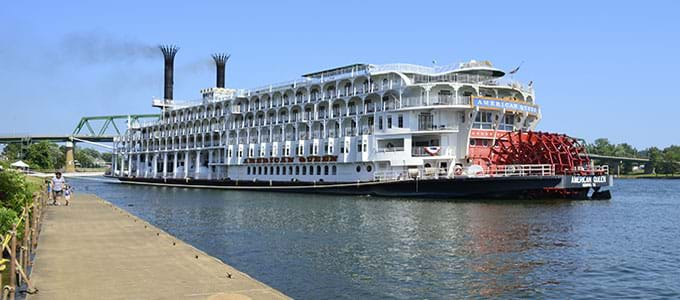 NEW ORLEANS TO MEMPHIS RIVER CRUISE - 9 DAY JOURNEY ABOARD THE AMERICAN QUEEN
February 23, 2020 – March 02, 2020 ★ Fares from $2,199
Mardi Gras on the River - Our beloved port of New Orleans is both spirited and spiritual, and no time is better to experience its unique and special sense of place than Mardi Gras season. With your pre-cruise hotel just steps away from the magnificent parades, you can don your best purple, green and gold outfit and take in the amazing sights, sounds, flavors, culture and unparalleled vibrancy of this beautiful port. Onboard, more festive and jubilant activities await, so don't miss this simple, hassle-free way to enjoy a must-experience event.

*Promotion valid on select 2020 departures. Offer expires 10/31/19 or when no valid cabins remain. Fares quoted are in U.S. dollars, are per guest and are based on double occupancy. Additional terms and conditions may apply. Call for details, and mention Offer Code 2020 EBD2.